Library News
---
Press Release: June 28, 2021
Contact: Ryan Deery, Library Director, 231-237-7360
Re: Summertime Music at the Charlevoix Public Library
Summertime Music at the Charlevoix Public Library!
The Charlevoix Public Library is once again the place to be for live music in the summer! We are thrilled to announce that SummerFolk has returned and Jazz @ The Library (JATL) continues this summer during July and August. Concerts are outside in the Children's Garden – bring your own chair!
SummerFolk: Dwain Martin A., your Charlevoix Library host of Summer and WinterFolk for over a decade, welcomes you to the return of The SummerFolk Concert Series. Dwain Martin A. and Robin Luce will welcome you back with a kickoff concert of your favorite songs and as well as new material celebrating the return of Folk music to our library live music schedule.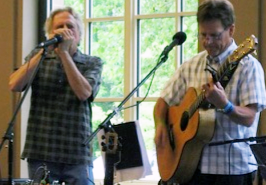 SummerFolk Schedule: Mondays in July & August from 6:30 – 7:30 pm • Children's Garden (weather permitting) • Bring your own chair
7.5 | Dwain Martin A. & Robin Luce: SummerFolk Kickoff Concert
7.12 | The Significant Others
7.19 | No concert – Venetian Week
7.26 | Nathan Towne
8.2 | Bruce Smith
8.9 | Claire Bates
8.16 | Terry Coveyou
Jazz @ The Library (JATL): The Library is excited to continue hosting Jazz @ The Library (JATL) this summer as it has for many years past, featuring the Steve Stargardt Trio with Andy Evans, bass; Jon Lindeneau, drums; and Steve Stargardt, piano. Join us!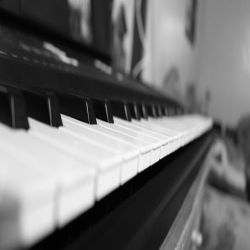 Jazz @ The Library (JATL) Schedule: Wednesdays in July & August from 7:00 – 8:00 pm • Children's Garden (weather permitting) • Bring your own chair
7.7 | Special guest, Nancy Stegnitta, flute
7.14 | Special guests, Bill and Laurie Sears, sax and flute
7.21 | No concert – Venetian Week
7.28 |Special guests, Claudia Schmidt, vocalist; Bill Sears, sax
8.4 | Special guests, Mike Hunter, trombone; Chris Bickley, sax/flute; Rick Stewart vocalist – Sinatra Tribute
8.11 |Special guests, Crispin Campbell, cello; Nancy Stegnitta, flute
8.18 | Special guests, family and friends
Please feel free to contact the Charlevoix Public Library at 231-237-7340 or email us at reference@charlevioxlibrary.org and visit our website at www.charlevoixlibrary.org.
---
Memorable Women of Charlevoix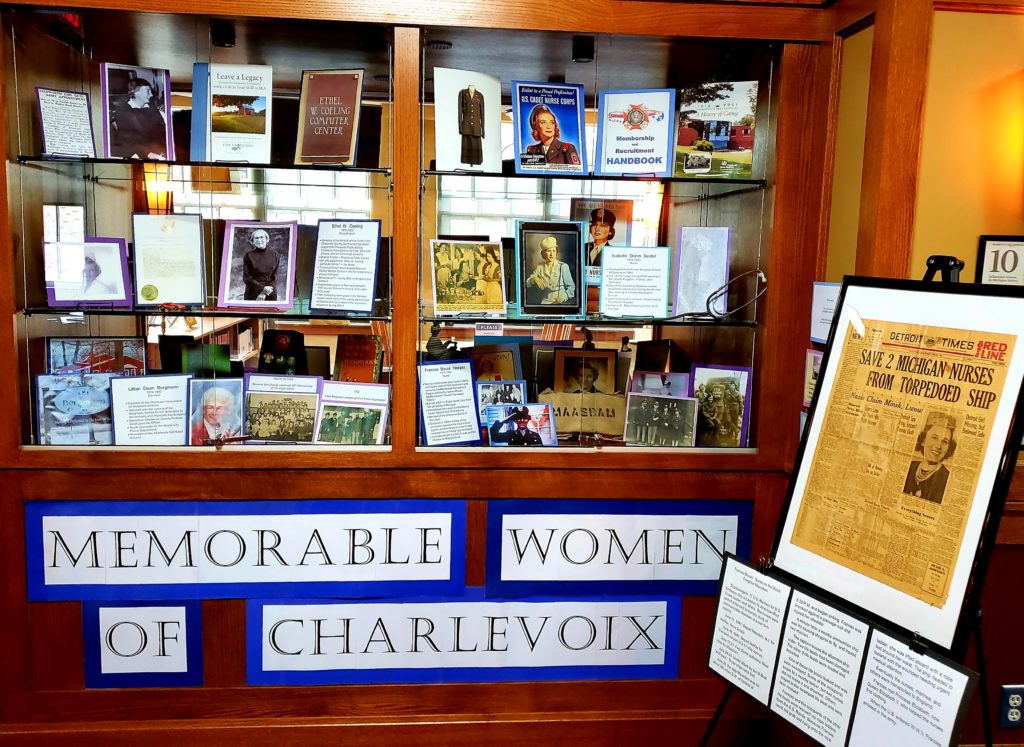 You are invited to join the Charlevoix Public Library and Friends of the Library's Michigan Room Committee in celebrating Women's History by learning about the amazing accomplishments of eight iconic Charlevoix women, currently exhibited in the library's Michigan Room Display Cases.
Observed annually in the month of March in the United States since 1987 and in conjunction with International Women's Day on March 8th, Women's History Month is a celebration of women's contributions to history, culture, and society. "We are so excited to share the impact and diversity of ways that women from Charlevoix have contributed to history" stated Michigan Room Committee member Cynthia Postmus.
The Friends of the Library Michigan Room Committee, which includes Cynthia Postmus, Kay Heise, Marilyn Novak, and Mary Ann Chew, spent months researching a multitude of women that have shaped Charlevoix, Michigan, the United States, and the world. "We discovered so many more important stories to tell that we intend to continue this display in subsequent years" emphasized Postmus.
Both the committee members' excitement and in-depth research is apparent in their informative display that includes biographies, photos, and artifacts. "We not only researched here at the library but had help from the families of these women as well as the Charlevoix Historical Society" explained committee member Kay Heise. Take in this important history display at the library through the month of May.
The eight "Memorable Women of Charlevoix" featured are:
Susan Fisher Greensky, 1834-1923
Rosa Saunders Nettleton, 1868-1959
Irene Harsha Young, 1889-1978
Frances Bacon Hooper, 1915-1998
Ethel W. Coeling, 1918-2002
Lillian Dean Bergmann, 1919-1999
Mary C. Feindt, 1916-2020
Isabelle Dohm Seidel,1919-2020
#######
---
Kanopy: Charlevoix Public Library adds free streaming video service
for library card holders!

On February 1st, Charlevoix Public Library card holders will have instant access to over 30,000 critically acclaimed movies, documentaries, and kid favorites. Described by the New York Times as "a garden of cinematic delights," Kanopy showcases award-winning documentaries, rare and hard-to-find titles, film festival favorites, indie and classic films, and world cinema.
Additionally, Kanopy Kids provides parents and caregivers with a curated selection of videos with developmentally appropriate, age-based ratings from Common Sense Media as well as parental controls to create an engaging and thoughtful viewing experience that fits your needs.
Kanopy, according to Director Ryan Deery "will give us the opportunity to further provide access to materials of unique social and cultural value; materials that are often difficult to find elsewhere, as well as resources that feature diversity, with a wide array of foreign language films and films on race, and current affairs." Additionally, Kanopy also gives the library public performance rights so we can show these films for discussion and engagement at the library!
On February 1st, CPL card holders may start streaming Kanopy on any favorite devices including mobile and tablet apps for iPhone and Android, on Desktop, and SmartTV apps like Roku, Apple TV, and Fire Stick. To get started, visit kanopy.com and select the "Get Started" button. Then, enter your library card credentials, create an account, and then pop some popcorn!
Questions? Call the library at 231-237-7340 or email us at reference@charlevoixlibrary.org
#######
---
Press Release Update: November 16, 2020
Event Date: Postponed until Groups may safely meet in person – stay tuned
Re: Community Read
Community Read – Postponed
The Charlevoix Public Library is pleased to announce a community discussion on Saturday, December 5 from 2:00-5:00 in the Community Room. The discussion will be based on the Pulitzer Prize Winning Slavery by Another Name by Douglas Blackmon. This book was published in 2008, and "Eviscerates one of our school children's most basic assumptions: that slavery in America ended with the Civil War". It was made into a documentary by PBS and was included as one of four films in the National Endowment for the Humanities Created Equal: America's Civil Rights Struggle series.
Perhaps this community conversation will help us understand how our current racial tensions, judicial system, and divisive political climate were shaped, in part, by the history Blackmon reveals in his extraordinarily thorough research.
The event is organized as follows:
2:00-3:30 Viewing of the documentary
3:30-3:45 Break and light refreshments
3:45-5:00 Discussion of both the film and book
Registered participants may pick up a free copy of the book at the Charlevoix Public Library information desk. Watch for virtual attendance information!
---
June 17, 2020
Contact: Ryan Deery, 231.237.7360
RE: Charlevoix Public Library Reopens to the Public
Charlevoix Public Library Reopens to the Public with Limited Hours and Services Beginning Monday, June 22.
The Charlevoix Public Library is excited to welcome back our patrons!
What to Expect at Your Next Visit:
While we are happy to welcome you back, you are likely to notice a few changes when you visit the library. Initially, library hours will be limited to Monday – Saturday from 10:00 am – 5:00 pm.
The Charlevoix Public Library prioritizes the safety of our patrons and staff, and we have adapted our building to minimize the risk of exposure to potential illness.
We have installed plastic shields at all service desks, 6-feet distancing markers, and distanced furniture. All computer keyboards accessible by the public are covered in plastic that will be sanitized or discarded after each use. Library staff will regularly disinfect all high-touch surface areas. Masks and hand sanitizer will be available upon entry and strongly encouraged. We hope these changes will make our patrons' visitor experience more comfortable.
To provide the best visiting experience for everyone, we ask patrons to abide by the following requirements:
All patrons are strongly encouraged to wear a face-covering during their visit. If you do not have one, a mask will be available near the front entrance.
If you are experiencing any COVID-19 related symptoms, do not enter.
Patrons must maintain 6-feet of distance from one another.
Due to the necessity of social distancing, the number of patrons allowed entry and the length of library use may be limited.
Public computer use will be limited to one hour and computer and technology help will be limited to what can be accomplished while maintaining 6-feet of separation.
Quarantine of returned materials will impact hold times and check in times.
Some toys, puzzles and other interactive features will not be available in the children's area. However, kits will be available for checkout.
Youth under the age of 13 must be accompanied by an adult.
Water fountains will be disabled by Executive Order.
Meeting room use will not be available in June. Starting in July, meeting room use will be limited based upon the ability to maintain 6-feet of separation.
Welcome back Charlevoix! We can't wait to see you.
---
Friday, March 13th, 2020
Patrons of the Charlevoix Public Library,
With the announced outbreak of COVID-19 or novel coronavirus in the State of Michigan as well as the steps taken by Governor Whitmer to reduce transmission, we want to make you aware of proactive steps we are taking to slow the spread of COVID-19 and protect the safety of our users, staff, and especially our vulnerable populations.
Charlevoix Public Library will suspend all operations as of 5:00 p.m., Saturday March 14th through Monday, April 13th. Further, the Library has suspended all Library Programming as well as community meetings of greater than 10 people through the remainder of March and throughout April.
This decision is based upon the best information available from reputable sources including the Health Department of Northwest Michigan, the State of Michigan, and the Centers for Disease Control and Prevention (CDC).
We will continue to monitor all available resources throughout this time period and reevaluate once the situation becomes more clear. We remain committed to serving our patrons in whatever innovative ways we deem safe. We fully intend to resume full services as soon as it is safe and appropriate.
Finally, we encourage patrons to monitor our website and Facebook page for updates and to utilize our robust digital and downloadable services which can be accessed from our website.
Thank you for your patience and understanding as we work our way through this challenging and developing situation.
Ryan Deery,
Library Director
---
2/16/2020 Update
Charlevoix Public Library, Charlevoix MI.
So many of you have reached out to us and asked if any help is needed during this clean up phase, for which we are so grateful. This is a truly amazing community.
At this time, we have Servpro working on the fire and water cleanup. The areas, where the work is concentrated, are the second-floor hallway carpet and the carpet from the Mason Street entrance to the circulation desk. It is expected that this work will take until Monday afternoon. At that time, further assessment will be conducted to see if any other damage has been identified that will require further mitigation.
We are confident that all the collections are safe and did not sustain any damage. Our beautiful library will reopen soon. Updates will be forthcoming as soon as we have them. Once more, thank you all for the very kind offers of help and support. We have truly appreciated them.
---
2/15/2020 Update
Charlevoix Public Library, Charlevoix MI.
In the early morning hours a humidifier unit located on the second floor of the library caused a small electrical fire. That fire prompted the fire suppression sprinkler system to activate exactly as it was designed to do. It appears the fire was immediately extinguished and did not itself cause much if any damage. However, the fire suppression sprinkler system continued to run until the fire department was able to shut the water off.
At this point the library is assessing the extent of the water damage and determining remediation steps. Until more information is available, the library will be closed until further notice.
Many thanks are due to Brian Wagner, Facilities Manager, Rebecca Parker, Circulation Department Manager, and Jennifer Fruk, Youth Department Manager, as well as the Charlevoix Fire Department, for their quick response and action.
---
2/10/2020
Charlevoix Public Library has a new Director
The Charlevoix Public Library Board of Trustees is extremely proud to announce the appointment of a new director, Mr. Ryan Deery. After an exhaustive national search, the Board made the offer in December and Ryan assumed his position on Monday, February 3rd, 2020.
"We are delighted to welcome Ryan and his family back to Northern Michigan and to the Charlevoix Public Library, as our new Director. His background and experience will serve him well as he takes the reins of our well-loved library into the future. We are fortunate to have Ryan to lead our Library, the heartbeat of our community." stated Tom Conlan, President of the Board of Trustees.
Originally from Petoskey, Ryan has returned to Northern Michigan with several advanced degrees and a wealth of experience in successfully directing and leading libraries. His most recent post was as the Director of the Allegan District Library, where he led the library through a transformative improvement project. Not only did this entail the complete renovation and expansion of the Carnegie library facility but also included an in-depth analysis of programming, staffing, and technology structures. Prior to Allegan, Ryan led the Suttons Bay Bingham District Library. Instilling a customer first focused culture, this library soon became known as the "beloved living room of the community."
"Please stop in to see me when you are in the library," said Deery "I am so excited to be the next Director of this beautiful library. I have been passionate about libraries ability to empower individuals and holistically support whole communities. I am looking forward to getting to know the Charlevoix community, the library patrons, and the exemplary library staff."
---
January 3, 2020
New Year, No Library Fines
A new year is coming which is a great time to resolve to reconnect with your local library. Libraries strive to be accessible to everyone, so a number of area libraries are working together to break down barriers to borrowing by going fine-free this January. If overdue fines have kept you or your family from using the Library, libraries are now saying 'Welcome back.'
In the past, charging an overdue item fine was used as a method to encourage patrons to return their library items on time. However, research shows that instead of enticing return of items, it actually contributes to loss of items because once an item was late, patrons would not want to incur a late fee, so just wouldn't return the item. Patrons who are financially unable to pay fines, or have difficulty getting to the Library, often stop visiting altogether once an item is overdue. Linda Adams, Charlevoix Library Director stated, "Children and teens often have little to no control over when they can return items to the library, so being a fine-free library means we can continue to provide our young patrons with access to books, materials, and digital resources. We are happy to eliminate a barrier to access and we welcome back patrons who may not have visited in a while!"
Starting January 1, 2020, overdue fines will no longer be charged on most items (Wi-Fi Hotspots and Equipment are excluded), and all outstanding overdue fines will be forgiven. Most patrons' existing overdue balances will be wiped clean to give them a fresh start to the year. Patrons will continue to receive reminders to renew or return materials on or before their due date. The libraries participating in this new fine free system include Alcona County Library, Boyne District Library, Charlevoix Public Library, Cheboygan Area Public Library, Mackinaw Area Public Library, Petoskey District Library and Presque Isle District Library.
The Charlevoix Public Library's hours are Monday – Thursday: 10:00 a.m. – 8:00 p.m. and Friday and Saturday: 10:00 a.m. – 5:00 p.m. and Sunday: 1:00 – 5:00 p.m. For more information about this service contact the Charlevoix Public Library staff at 231.547.2651 or visit us at www.charlevoixlibrary.org and read the General Use Policy.