Library News
Friday, March 13th, 2020
Patrons of the Charlevoix Public Library,
With the announced outbreak of COVID-19 or novel coronavirus in the State of Michigan as well as the steps taken by Governor Whitmer to reduce transmission, we want to make you aware of proactive steps we are taking to slow the spread of COVID-19 and protect the safety of our users, staff, and especially our vulnerable populations.
Charlevoix Public Library will suspend all operations as of 5:00 p.m., Saturday March 14th through Monday, April 13th. Further, the Library has suspended all Library Programming as well as community meetings of greater than 10 people through the remainder of March and throughout April.
This decision is based upon the best information available from reputable sources including the Health Department of Northwest Michigan, the State of Michigan, and the Centers for Disease Control and Prevention (CDC).
We will continue to monitor all available resources throughout this time period and reevaluate once the situation becomes more clear. We remain committed to serving our patrons in whatever innovative ways we deem safe. We fully intend to resume full services as soon as it is safe and appropriate.
Finally, we encourage patrons to monitor our website and Facebook page for updates and to utilize our robust digital and downloadable services which can be accessed from our website.
Thank you for your patience and understanding as we work our way through this challenging and developing situation.
Ryan Deery,
Library Director
2/16/2020 Update
Charlevoix Public Library, Charlevoix MI.
So many of you have reached out to us and asked if any help is needed during this clean up phase, for which we are so grateful. This is a truly amazing community.
At this time, we have Servpro working on the fire and water cleanup. The areas, where the work is concentrated, are the second-floor hallway carpet and the carpet from the Mason Street entrance to the circulation desk. It is expected that this work will take until Monday afternoon. At that time, further assessment will be conducted to see if any other damage has been identified that will require further mitigation.
We are confident that all the collections are safe and did not sustain any damage. Our beautiful library will reopen soon. Updates will be forthcoming as soon as we have them. Once more, thank you all for the very kind offers of help and support. We have truly appreciated them.
2/15/2020 Update
Charlevoix Public Library, Charlevoix MI.
In the early morning hours a humidifier unit located on the second floor of the library caused a small electrical fire. That fire prompted the fire suppression sprinkler system to activate exactly as it was designed to do. It appears the fire was immediately extinguished and did not itself cause much if any damage. However, the fire suppression sprinkler system continued to run until the fire department was able to shut the water off.
At this point the library is assessing the extent of the water damage and determining remediation steps. Until more information is available, the library will be closed until further notice.
Many thanks are due to Brian Wagner, Facilities Manager, Rebecca Parker, Circulation Department Manager, and Jennifer Fruk, Youth Department Manager, as well as the Charlevoix Fire Department, for their quick response and action.
2/10/2020
Charlevoix Public Library has a new Director
The Charlevoix Public Library Board of Trustees is extremely proud to announce the appointment of a new director, Mr. Ryan Deery. After an exhaustive national search, the Board made the offer in December and Ryan assumed his position on Monday, February 3rd, 2020.
"We are delighted to welcome Ryan and his family back to Northern Michigan and to the Charlevoix Public Library, as our new Director. His background and experience will serve him well as he takes the reins of our well-loved library into the future. We are fortunate to have Ryan to lead our Library, the heartbeat of our community." stated Tom Conlan, President of the Board of Trustees.
Originally from Petoskey, Ryan has returned to Northern Michigan with several advanced degrees and a wealth of experience in successfully directing and leading libraries. His most recent post was as the Director of the Allegan District Library, where he led the library through a transformative improvement project. Not only did this entail the complete renovation and expansion of the Carnegie library facility but also included an in-depth analysis of programming, staffing, and technology structures. Prior to Allegan, Ryan led the Suttons Bay Bingham District Library. Instilling a customer first focused culture, this library soon became known as the "beloved living room of the community."
"Please stop in to see me when you are in the library," said Deery "I am so excited to be the next Director of this beautiful library. I have been passionate about libraries ability to empower individuals and holistically support whole communities. I am looking forward to getting to know the Charlevoix community, the library patrons, and the exemplary library staff."
1/15/2020
Hot Topics at the Library!
Charlevoix Public library is kicking off a series of talks that are geared to cover some "Hot Topics" that many want to know more about. There will be three talks in this series beginning on Tuesday February 4th. Scott LaDeur, a political science professor from NCMC will examine conspiratorial thinking and the power of "fake news" to create new realities.
The following Tuesday, February 11th Trooper Corey Hebner will discuss the basics of human trafficking. What law enforcement is doing and what we as citizens can do to support these efforts.
The third presentation on Tuesday, February 18th will be on Immigration Law by Mary O'Leary-Larsen. She will explain the complexities of our immigration system and how the path to citizenship can be difficult for so many.
The Charlevoix Public Library is located at 220 W. Clinton Street in Charlevoix. These events will begin at 6:30 p.m. and will be held in the community room. For more information, please call at 237-7340 or visit the library website.
1/8/2020
2020 WinterFolk Concert Series
The Charlevoix Public Library is pleased to announce that the 2020 WinterFolk Concert Series is about to begin. The library has hosted this popular series for the past 12 years. The series celebrates the local folk and Americana music scene on the last Monday of each month! There will be an open mic sign up beginning at 6:00 pm, (on a first come, first served basis), with the featured performer starting at 6:30 pm. The open mic session will begin after the featured performer.
On Monday, January 27, 6:30 p.m., The Series kicks off with Boundarywater. An acoustic trio firmly rooted in Celtic music. With Stephanie Cope on fiddle, Gary Schils on percussion and Bill Wilson on guitar, they infuse their original compositions with influences from a wide range of music.
The following month on Monday, February 24th, 6:30 pm. Marcie McQuillan, who is a local teacher, but moonlights as a singer/songwriter will be with us. She shares a unique blended performance that includes original songs with connections to science, nature, history and folklore.
Next in the line up is Claire Bates who will perform on Monday, March 30th. Building on her experience as a social worker, activist and relationally entwined human being, Claire uses acoustic guitar and her sweet, bold voice to communicate her hope for each person to experience peace and dignity.
And closing the 2020 Series, on Monday, April 27th, 6:30 pm., Sydni Kann will perform her unique pop-country songs and her infectious personality. Sydni has recently released her debut EP "All of the Rumors are True!"
All programs are free and are held in the library's community room. The Charlevoix Public Library is located at 220 W. Clinton Street. For more information about the 2020 Winterfolk Series please call 231-237-7340 or visit the library's website.
January 7th, 2020
Youth Programming for Winter 2020
The Charlevoix Public Library has published an exciting slate of Youth programs for Winter 2020. Some of these programs are set to meet on the same day each week others are standalone programs on specific dates.
The after-school programs that occur on the same day each week include Maker Mondays 3:15 – 4:45 p.m. These programs are split into grades 1-6 and 7-12. Attendees will be challenged to make a programmable robotic ball, or a graphic cartoon novel and some days will be focused on crafts with a difference. Beginning on Thursday, January 9th, as an after-school program, the Bricks and Books Lego Club will meet. Geared towards grades 1-6, everyone will be able to build their Lego masterpiece, which will remain on display in the library for the month, as they listen to a Lego story!
The stand-alone programs begin with Stories from India on Saturday February 1st 11:00 -12:30 pm. Heather Lewis will present and as this program is appropriate for school aged children, teens and adults it will be held in the community room. Learn about similarities and differences in our cultures and what some of the challenges, fellow students face in India.
Hot Dog Lovers Book Party on Friday, February 14th. From 11:15 – 3:00 p.m. Grades K-6th are invited to listen to hot dog stories and vote for their favorite hot dog topping! Enjoy a hot dog lunch and look for chances to win books.
National Scrabble Day will be celebrated all day on Monday, April 13th. This program is designed for teens and no registration is required. A giant size game of scrabble with wooden bricks will be in the Teen room and of course there will be snacks and hot cocoa to inspire word building skills.
Going to the Prom? Don't forget to take a look at the Prom Dress Closet on Friday April 10th (half day school) and Saturday, April 11th between 11:15 am and 12:30 pm. The Library has an amazing selection of well-loved and gently worn dresses, in all sizes, to select from.
The fifth annual Book Bash Reading Challenge (for Youth, Adults and Teens) kicked off January 2nd and will last through February 23rd. Choose the books that you want to read and win some wonderful prizes. Stop in at the library to find out how to submit your entries or look on the website for more information.
On the days that the local schools have a half day of school, the library is will offer Movies in the Coeling Computer Center for youth and teen-age patrons. The movies will be listed on the website as those half days of school draw near.
All programs are offered free of charge. The Charlevoix Public Library is located at 220 W. Clinton Street. For more information about the 2020 Youth Programs, please call 231-237-7350 or visit the library's website.
January 3, 2020
2020 Travel Series
The Charlevoix Public Library is pleased to announce that the 2020 Travel Series is about to begin. The library has hosted this popular series for the past thirteen years. This year it features personal accounts of grand adventures in and around Michigan.
On Tuesday, January 7, 6:30 p.m., Tom Renkes will share his solo kayaking adventure of 1000 miles on Lake Superior. Tom, on his 60th birthday, wanted to put a final stamp on his decades old depression. This was an "unwired" journey with no smartphone, laptop or GPS wristwatch. Join Tom on a journey of immersion into nature and the rhythms of the Universe.
The following week on Tuesday, January 14th, 6:30 p.m., Loreen Niewenhuis will take us to the edges of all five Great Lakes and many of the waterways connecting them. She will take us on a journey of exploration through the genealogy, hydrology and natural history of the largest system of freshwater lakes in the world.
Closing the Series on Tuesday, January 21st 6:30 p.m., Kim Schneider, our very own local travel expert, will provide us with tips on how to theme travel – helping us to step out of our comfort zone and stretch beyond just a tour to an amazing experience.
All programs are free and are held in the library's community room. The Charlevoix Public Library is located at 220 W. Clinton Street. For more information about the 2020 Travel Series, please call 231-237-7340 or visit the library's website.
January 3, 2020
New Year, No Library Fines
A new year is coming which is a great time to resolve to reconnect with your local library. Libraries strive to be accessible to everyone, so a number of area libraries are working together to break down barriers to borrowing by going fine-free this January. If overdue fines have kept you or your family from using the Library, libraries are now saying 'Welcome back.'
In the past, charging an overdue item fine was used as a method to encourage patrons to return their library items on time. However, research shows that instead of enticing return of items, it actually contributes to loss of items because once an item was late, patrons would not want to incur a late fee, so just wouldn't return the item. Patrons who are financially unable to pay fines, or have difficulty getting to the Library, often stop visiting altogether once an item is overdue. Linda Adams, Charlevoix Library Director stated, "Children and teens often have little to no control over when they can return items to the library, so being a fine-free library means we can continue to provide our young patrons with access to books, materials, and digital resources. We are happy to eliminate a barrier to access and we welcome back patrons who may not have visited in a while!"
Starting January 1, 2020, overdue fines will no longer be charged on most items (Wi-Fi Hotspots and Equipment are excluded), and all outstanding overdue fines will be forgiven. Most patrons' existing overdue balances will be wiped clean to give them a fresh start to the year. Patrons will continue to receive reminders to renew or return materials on or before their due date. The libraries participating in this new fine free system include Alcona County Library, Boyne District Library, Charlevoix Public Library, Cheboygan Area Public Library, Mackinaw Area Public Library, Petoskey District Library and Presque Isle District Library.
The Charlevoix Public Library's hours are Monday – Thursday: 10:00 a.m. – 8:00 p.m. and Friday and Saturday: 10:00 a.m. – 5:00 p.m. and Sunday: 1:00 – 5:00 p.m. For more information about this service contact the Charlevoix Public Library staff at 231.547.2651 or visit us at www.charlevoixlibrary.org and read the General Use Policy.
September 30th, 2019:
Charlevoix Public Library Director Stepping Down
The Charlevoix Public Library Board of Trustees has announced that Linda Adams, the long-time, well-loved Director is stepping down from her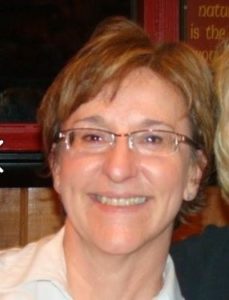 post as the Director of the Library to go to the Northland Library Cooperative, as their Director. One of the major functions of this Cooperative is to provide advocacy and consulting services to local libraries in a variety of areas. The change is effective January 1st, 2020.
"This is a rather bittersweet moment for us, as Trustees," said Tom Conlan the Chair of the Board, "We have been very fortunate to have such an outstanding and personable leader. We shall miss Linda, in her capacity as Director of the Library, but will look forward to working with her in her new role as a consultant!"
Linda came to the library in 2004 as one of the Adult Services Librarians and was promoted into the Director position in 2014. During this time the library has enjoyed continued growth in collections, adult and youth programming and the building and grounds infrastructure.
"I have been so fortunate to work with our donors and patrons to develop and build the Children's Garden and the playlot on the SW and NW corners of the library property, said Linda Adams. "I am so very proud of this library and the little town that made this happen. It is only through the support of the Charlevoix community that such a place like this exists. I thank you all for this wonderful experience!"
The search for a new Director is underway. The posting will be listed on the library's website, on various professional listservs and the Michigan Library Association website. For more information please contact Lyn Weick on 231-547-0678 or lweick@charlevoixlibrary.org.
October 25, 2019: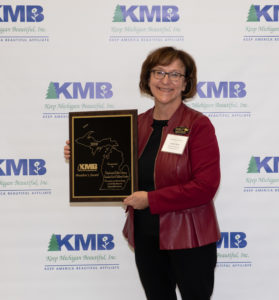 Charlevoix Public Library – Grandma Geri's Children's Garden wins Keep Michigan Beautiful Inc. President's Award.
Grandma Geri's Children's Garden at the Charlevoix Public Library received a President's award for their beautification efforts from Keep Michigan Beautiful, Inc. at their annual Awards Banquet held October 18, 2019 in Lansing at the Crowne Plaza West.
Grandma's Geri Children's Garden was originally designed and installed in the summer of 2006. Over the years, the plant and shrubs had become overgrown, the musical instruments and seating needed sprucing up and the landscaping was in need of improvement. Its uses had also changed. While still primarily a children's garden the space was also used for outdoor events and concerts. Three full time staff members, two project donors, a volunteer landscape architect and a member of the Board of Trustees were all involved in the planning in 2017. The gorgeous new garden was installed in 2019 with the help of a generous donation by local residents, Mike and Rhea Dow. The new garden features a stage/seating area, a musical sound garden and updated and expanded water feature, a slide and more. Further work was done by two artists who sculpted the musical instruments and welcome tree arch. The library is thankful to the additional community donors who made these whimsical enhancements possible.
Now it is a space filled with light and interaction; children playing and adults listening to concerts. Over 150 people attended the Grand Re-Opening Celebration on June 8, 2019. Children are busy playing the instruments in the sound garden, laughing down the slide and watching the waterfall. They are attending summer story times and adults are coming to jazz concerts in the new space. It is a welcome extension of the library.
Keep Michigan Beautiful, Inc. (KMB) is a non-profit organization established in 1962 by Governor John B Swainson as a litter prevention committee. In 1965, following the White House Conference on Beautification, hosted by Lady Bird Johnson, a Governor's Conference was held in Lansing. At this conference Governor George Romney declared that Keep Michigan Beautiful, Inc. would be the official state organization to combat litter and to promote beautification. KMB's objective is to identify, recognize and honor programs or projects that involve beautification, litter prevention and control, recycling of waste materials cleanup, site restoration and historical preservation.
The Charlevoix Public Library is located at 220 W. Clinton Street in Charlevoix. For more information about this or other library events, call 231-237-7340 or visit them at www.charlevoixlibrary.org.