Library News
October 25, 2019: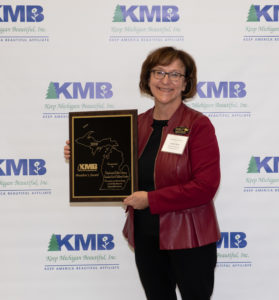 Charlevoix Public Library – Grandma Geri's Children's Garden wins Keep Michigan Beautiful Inc. President's Award.
Grandma Geri's Children's Garden at the Charlevoix Public Library received a President's award for their beautification efforts from Keep Michigan Beautiful, Inc. at their annual Awards Banquet held October 18, 2019 in Lansing at the Crowne Plaza West.
Grandma's Geri Children's Garden was originally designed and installed in the summer of 2006. Over the years, the plant and shrubs had become overgrown, the musical instruments and seating needed sprucing up and the landscaping was in need of improvement. Its uses had also changed. While still primarily a children's garden the space was also used for outdoor events and concerts. Three full time staff members, two project donors, a volunteer landscape architect and a member of the Board of Trustees were all involved in the planning in 2017. The gorgeous new garden was installed in 2019 with the help of a generous donation by local residents, Mike and Rhea Dow. The new garden features a stage/seating area, a musical sound garden and updated and expanded water feature, a slide and more. Further work was done by two artists who sculpted the musical instruments and welcome tree arch. The library is thankful to the additional community donors who made these whimsical enhancements possible.
Now it is a space filled with light and interaction; children playing and adults listening to concerts. Over 150 people attended the Grand Re-Opening Celebration on June 8, 2019. Children are busy playing the instruments in the sound garden, laughing down the slide and watching the waterfall. They are attending summer story times and adults are coming to jazz concerts in the new space. It is a welcome extension of the library.
Keep Michigan Beautiful, Inc. (KMB) is a non-profit organization established in 1962 by Governor John B Swainson as a litter prevention committee. In 1965, following the White House Conference on Beautification, hosted by Lady Bird Johnson, a Governor's Conference was held in Lansing. At this conference Governor George Romney declared that Keep Michigan Beautiful, Inc. would be the official state organization to combat litter and to promote beautification. KMB's objective is to identify, recognize and honor programs or projects that involve beautification, litter prevention and control, recycling of waste materials cleanup, site restoration and historical preservation.
The Charlevoix Public Library is located at 220 W. Clinton Street in Charlevoix. For more information about this or other library events, call 231-237-7340 or visit them at www.charlevoixlibrary.org.