Back To Search
CPL's COVID-19 Response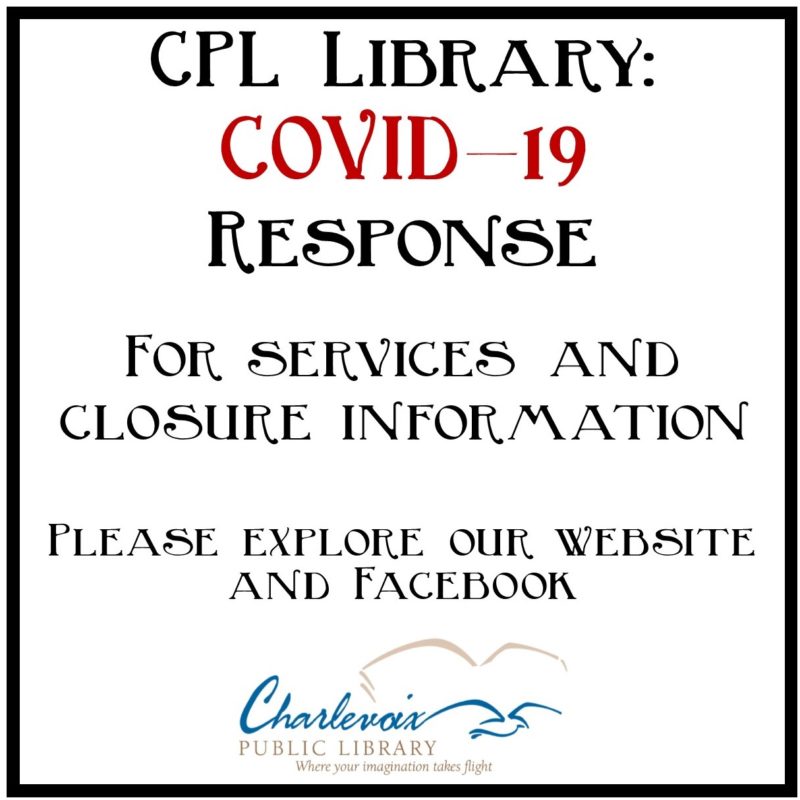 Saturday, March 14, 2020 - June 12, 2020
Charlevoix Public Library
, MI
Contact & More Info

With the announced outbreak of COVID-19 or novel coronavirus in the State of Michigan as well as the steps taken by Governor Whitmer to reduce transmission, we want to make you aware of proactive steps we are taking to slow the spread of COVID-19 and protect the safety of our users, staff, and especially our vulnerable populations. Check out "Stay Home, Stay Mindful" from the State of MI in partnership with headspace. 
Charlevoix Public Library has suspended all operations as of 5:00pm, Saturday March 14th through at least June 12th. 
Need your library card number to access digital content? Please leave a message at 231-547-2651 or emailed to us at reference@charlevoixlibrary.org to have a staff member contact you. Staff are checking messages remotely and we are responding as promptly as we can Monday through Friday 10am-4pm.
Not currently a library card holder? Complete the online form by clicking here to apply for a Virtual Card.
Press release: https://www.charlevoixlibrary.org/about-cpl/press-releases/
Services still available during the closure:
· Find a great read by downloading a digital ebook or audiobook from our website using Overdrive/Libby, Hoopla, Tumble Books, World Books, or MeL. Hoopla also has movies, television shows and music available for download, up to five items per month.
· Pick up a great read you'll never need to return from one of the Little Free Libraries found at 307 Crain Street, 204 W. Upright, Michigan Beach, Ferry Beach, and Depot Beach.
· Pick up a great read from one of our local grocery stores from the CPL basket at Oleson's, Family Fare, and Martin's Market in Charlevoix.
· Don't worry about all of the items you checked out. All items have been automatically renewed through June 12th. The drive up book drop is currently closed until re-opening.
· For all other library updates, as well as, to find reputable information on the Coronavirus and pre-cautions to take during this challenging time, follow our Facebook page or explore our website we are updating.
Be sure to check out our YouTube channel, virtual story time page, resources and fun stuff page and other good stuff page, eBooks & eAudio page.