Back To Search
Employment Opportunity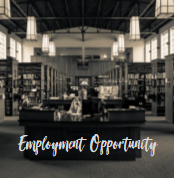 Wednesday, May 30, 2018 - June 21, 2018
Contact & More Info

Employment Opportunity:
Title:  Youth Services Librarian/Supervisor
Salary range: Full time position commensurate with experience
Reports to: Library Director
Supervises: Library Assistants in the department
Apply by: June 22, 2018
Expected start date: August 6, 2018
Purpose/Scope of Position
Are you committed to early literacy?  Do you enjoy experimenting with technology and innovative programming? Does supervising a passionate, creative group of employees sound fun and exciting? CPL is looking for an innovative, tech savvy leader with excellent customer service and library skills.  We are seeking an imaginative librarian who approaches challenges with flexibility and a touch of humor.  The Youth Services Supervisor serves as part of the library's management team to produce the highest possible quality of information and programming services to children, teens, and families served by the Charlevoix Public Library district.  For more information: Youth Services Supervisor
Please send cover letter and resume to linda@charlevoixlibrary.org by June 22, 2018  Open until filled.