Back To Search
Public Notice: Request for Proposal - Charlevoix Public Library Mechanical Renovations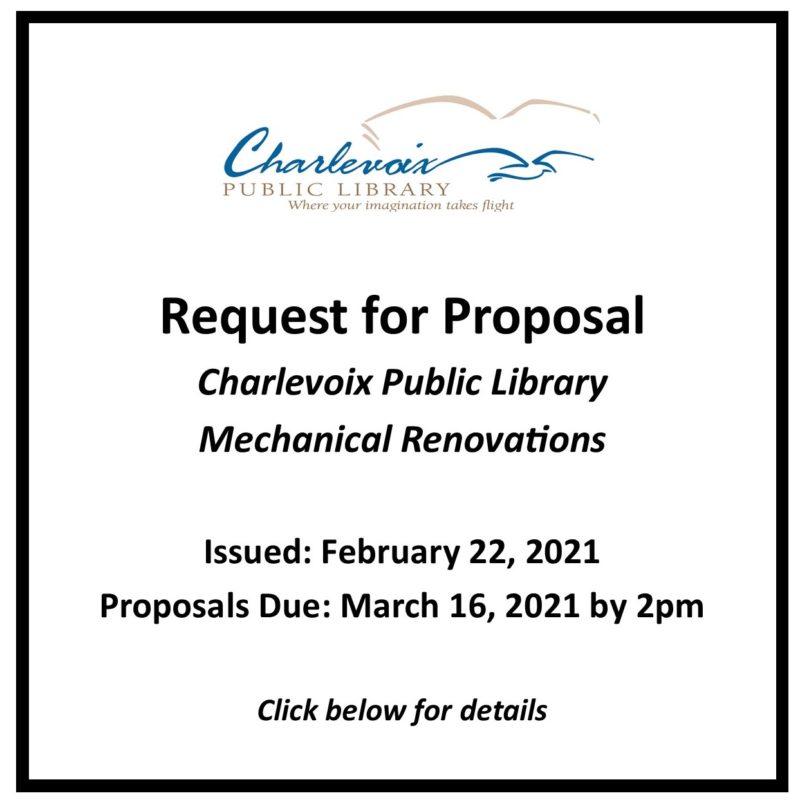 Monday, February 22, 2021 - March 16, 2021
Contact & More Info

Request for Proposal – Charlevoix Public Library Mechanical Renovations
Issued: February 22, 2021
Advertisement for Bids
Charlevoix Public Library (CPL) is seeking to retain the services of a qualified Mechanical Contractor for design/build services related to replacement and/or improvement of the existing temperature controls system, boilers, dampers, along with testing and balancing (TAB) services. The Christman Company will serve in a consulting role throughout the duration of the project, with the successful firm contracting directly with CPL.
This Request for Proposal will be publicly advertised and CPL will seek to retain the services of the most qualified bidder. The proposals are due electronically to Mr. Brian Wagner, Facilities Manager at
bwagner@charlevoixlibrary.org Tuesday, March 16, 2021 at 2:00PM EST. Post bid interviews will occur during the week of March 22nd, exact dates and times will be scheduled after proposals are received.
All contractors bidding on the work must be bondable and must include in their bid the cost for furnishing a Material Payment Bond and a Performance Bond, please provide a break-out of this cost. A pre-bid conference will be held virtually on March 4, 2021 at 2pm.
Please find details in the attached document.