Summer 2020
Let's Soar Together Feather Art
After all, the CPL motto is: "Where your imagination takes flight."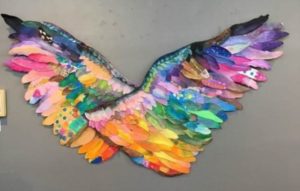 Please join the Charlevoix Public Library in participating in our annual summer art project. It has been quite an unusual and stressful several months and we want to fly above the library fire, difficult times in our country and all the days spent indoors being socially isolated.
If you want to fly – you have to have wings!
You can make as many feathers as you want and anyone can participate!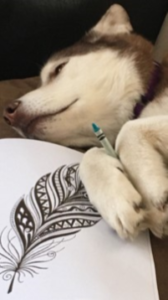 Step One
Print out one of the feather templates OR draw, paint, or find your own design online. Please make feathers between 8 to 12 inches long.

If you do not have access to a printer, you can pick up templates from our

book baskets at our local grocery stores

.
Step Two
Decorate your feather(s) by coloring, painting, using markers, bedazzling, or however you like. Get creative! Have fun!
Step Three
Bring your completed feathers to turn in at the Circulation Desk.

Or you can mail your feathers to CPL: Feathers Project, 220 West Clinton St., Charlevoix, MI 49720

We will take your feathers and fill our wings with your beautiful creations. NOTE: Feathers will not be returned.
Step Four
Come see the completed creation and take a selfie photo in front of our community's wings to rise together as one!

Tag Charlevoix Public Library on Facebook, or Twitter #featherartcpl

Check back on this page for details on the exhibition of our wings and pictures.