A huge THANK YOU to the Friends of the Charlevoix Public Library for the donation of these books to patrons in our community.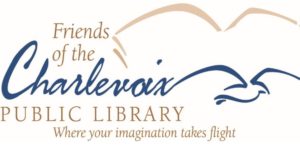 These Charlevoix locations have been stocked with youth and adult books for you to borrow and (if you wish) return disinfected to any location. Stay safe and stay at home with a good book.
Since we are now staying at home, the book bike will no longer be out at the Mason Street sidewalk at the library during the week. The following locations were stocked before the "stay-at-home" order was in effect.
Click the images to link to the GoogleMaps directions.
Book baskets are also located at your local grocery stores: Oleson's, Family Fare, and Martin's Market.
Olesons: https://goo.gl/maps/1kjqycuD4ehMs71m7
Family Fare: https://goo.gl/maps/GNPjbvCMdpPANrjs7
Martin's Market: https://goo.gl/maps/Vg4EPRaoTPNqbzcu8
Please be courteous and remember to sanitize your hands and close the doors tightly when borrowing and (if you wish) returning disinfected books. Thank You!
From the Little Free Library organization: https://littlefreelibrary.org/
With the spread of COVID-19, remember that your health and the health of those in your community are what's most important.
Please follow the prevention advice from the CDC. Out of an abundance of caution, some Little Free Library volunteer stewards are choosing to temporarily close their libraries. If you are a steward who is keeping your library open, please follow these best practices.