Visit the Youth Department to drop in at the STEAM Station to see what is new each week! Construct, crash, chuck, create, and collaborate solutions to rethink how and why things work. Challenge the traditional ways of thinking and apply your ideas and then check a book out to learn more about inventing.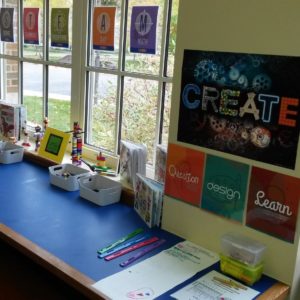 STEAM Station
Weekly Ongoing • All Ages • Drop In Program.
Get going galactic with our challenges this spring as we gear up for the theme of Universe of Stories this summer in commemoration of the 50th Anniversary of the Lunar Landing on the Moon.
Check out what is new at our weekly Science, Technology, Engineering, Art, and Mathematics Station.