Where literacy begins…
All story times are drop in programs in the Youth Activity Center, no registration necessary.
Story Time with Ms. Laura
Thursdays at 10:30 am
Birth-Five years
Hear stories, dance to songs, play with friends, and learn fingerplays.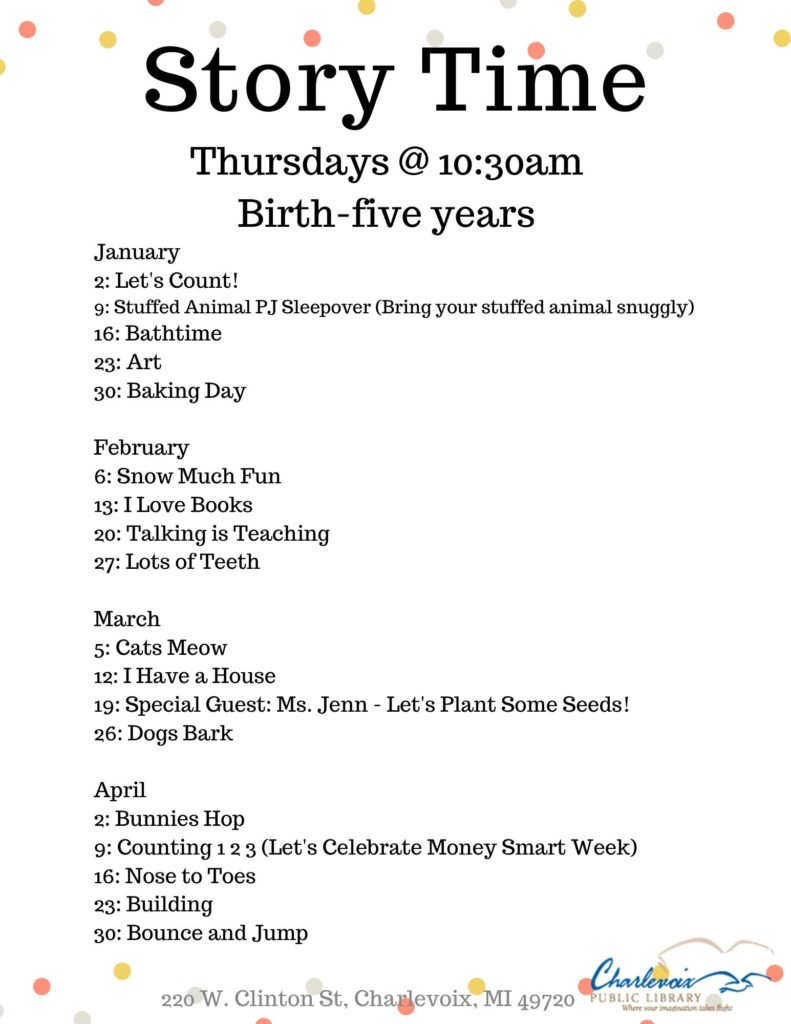 1000 Books Before Kindergarten Challenge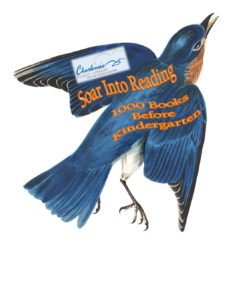 Register at the Youth Desk to receive a reading log and milestone rewards along the way to kindergarten.
On behalf of the 1000 Books Foundation, you are invited to participate in this program which encourages you to read 1000 books with your child before kindergarten. Reading one book a day will get you to 365 books in one year, and that adds up to 730 books in two years, and then 1095 books in three years before starting kindergarten. Reading is a great opportunity for bonding with your child, increasing words spoken and heard in the home, and creating life long memories for both you and your child. Strengthen your family by challenging yourselves to read 1000 books by signing up at the Youth Department Desk for a reading log packet. To learn more about this initiative, visit: https://1000booksbeforekindergarten.org/
Upon registration, Children will receive a plastic color-able book bag with a bird themed reading log to track the number of books read, a magnet clip to hang the reading log in view, and a monthly calendar with literacy tips. Each child will get a laminated paper bird to hang in the children's area with their first name and if they choose, their photo too. Every 100 books read will be awarded with a hand stamp and a milestone sticker to put on their bird as a prize to stay motivated to the goal of reaching 1000 books read. At the 500 books read milestone children will get a nursery rhyme book and an I Love to Read temporary tattoo with their milestone sticker. Once 1000 books read has been reached, children will receive a certificate of completion award and a going to Kindergarten book to keep. This program may take up to 3 years or more to complete if children begin at a young enough age.
---
Meet Ms. Jennifer, Ms. Laura, and Ms. Nicole
Ms. Jenn is our Youth Services Supervisor and she plans and oversees youth programs, manages the youth collection and materials, leads youth programs, and brings library materials to special events and outreach programs.
Ms. Laura is our Teen Librarian and she manages the teen collection, orders audio visual materials, and leads teen programs and activities. Once a week Ms. Laura also leads Thursday morning story time in the Youth Activity Center at the library. Once a month during the school year, she visits St. Mary's Preschool for story time and Charlevoix High School for book talks and discussions.
Ms. Nicole is our Librarian Assistant and she leads after-school programs, tours field trip groups, and plans and updates our weekly S.T.E.A.M. Station. Once a month during the school year, Ms. Nicole visits Charlevoix Elementary School and Charlevoix Head Start Preschool classes for story time.
Field Trips
The library is a great place for school groups to visit and helps students build a connection to the community. Most field trips involve a story time, tour, bookmark craft activity, and if time allows, a scavenger hunt or topic specific tutorial upon request. Visit to learn how to use Bibliocommons, our online catalog, and track your reading lists. We can show you how to take a trip to another continent with our digital resources from World Book on the homework help page. Go back in time browsing through our large collection in the Juvenile Biography section to find someone to inspire your dreams.
Please call 231-237-7350 to schedule your field trip so we can be prepared to give your students a memorable day that fits your curriculum.
Schools that take annual field trips to the library:
Charlevoix Elementary School 1st Grade & 4th Grades

Ellsworth Elementary School

Home-schooling cooperatives
Special Reading Events
Celebrate literacy throughout the year with the Charlevoix Public Library at a special event. Join us to commemorate an author's birthday, support Children's Book Week and National Library Week, spread awareness about Banned Book Week, gear up for Teentober, International Games week, come to a book signing, or participate in our seasonal reading challenges and summer reading programs.