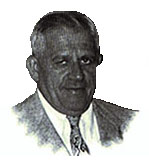 There is no need to write a biography of Earl Young here, because his story is well told in this chronologically arranged series of articles. Some are written by Mr. Young - most are written about the man, his work, his humor, his creativity, his love of nature, his love of Charlevoix and his love for his family.
We apologize for the quality of the photos in this section, but some are scanned from very old newspaper articles and, worse yet, some are scanned from photocopies of very old newspaper articles!
Advertisement for Boulder Park
Charlevoix Courier, July 9, 1924
"New Weathervane Building Is Open"
Charlevoix, Michigan, Thursday, July 15, 1954
"Old Mill Becomes Restaurant"
by K. C. Clapp, Grand Rapids Herald, December 5, 1954
"Michigan's Finest"
The Grand Rapids Press, July 26, 1959
"A Chat With Earl Young"
by Glen Sheppard, Petoskey News-Review, April 5, 1967
"Sea Gulls Soar in the Fireplaces"
Petoskey News-Review, Friday, July 28, 1967
"Santa must cheer Earl Young's magic"
by Glen Sheppard, Charlevoix Courier, December 20, 1967
"Medusa & reality"
Charlevoix Courier, October 16, 1968
"Reader applauds Earl's stand"
Charlevoix Courier, letter to the editor from Bob Clock, October 16, 1968
Photo with "Boulder Park" boulder
Charlevoix Courier ?, 1970's ?
"Creative Home Builder Ignores Old Age, Almost ... "
by Bob Scully, Lundington Daily News, October 13, 1971
"Earl Young to Mark No.84 on Saturday"
Charlevoix Courier, Wednesday, March 25, 1973
"Stone Lover Builds Solid, Artful Heritage"
by Thomas C. Fox, Detroit Free Press, July 29, 1973
"Charlevoix the Beautiful"
by Earl A. Young, Charlevoix Courier, July 10, 1974
"Young Offers Another Chapter"
by Earl A. Young, Charlevoix Courier, December 4, 1974
"Earl A. Young, 86, Left His Mark on Charlevoix"
May 1975
"Realtor-Builder Earl Young Dies"
May 1975
"Earl A. Young 1889 - 1975"
from "Brief History of Charlevoix, Michigan: 1857 - 1870", compiled by Eleanor Ratigan & Mary Beth Wallick
"The legacy of Earl Young"
byAudrey Collins, The Graphic, July 30, 1981
"Michigan Lithotecture"
by Michael J. P. Smith, Inland Architect, May/June 1993
"Caught under the spell of mushrooms"
by Marj Jackson Levin, Detroit Free Press, July 9, 1993
"Fanciful Smurfsville"
by Joan Huyser-Honig, The Grand Rapids Press, September 12, 1993
"Do Gnomes Live Here?"
By Joan Huyser-Honig, The Ann Arbor News, Sunday, November 14, 1993
"The Man Who Loved Stones"
by Ingrid Tomey, Michigan Natural Resources, September/October 1994
"Elf Space"
by Judy Rose, Detroit Free Press, July 9, 1995
"Architect captures local history"
by Geoffrey Reynolds, Charlevoix Courier, October 16, 1996
"Hobbit - land"
by A. C. McMullen, Summer Magazine, a supplement to the Record-Eagle, June 12, 1997