The BookTalkers discussion group meets at 6:00 pm in the Armstrong Conference Room
on the second floor of the library.
News of the World by Paulette Jiles
Monday, August 21
The Civil War is over, and Captain and widower Jefferson Kyle Kidd makes ends meet by giving live readings of various newspapers. A $50 gold piece convinces Captain Kidd to transport a young woman, who was raised among Kiowa raiders after her parents' death, to the home of relatives in San Antonio. As the journey continues, the pair become closer, and when they finally arrive in San Antonio, Capt. Kidd must make the hardest decision of his life. Poet and novelist Paulette Jiles' latest book is a brilliant work of historical fiction that explores the boundaries of family, responsibility, honor and trust.
To the Bright Edge of the World by Eowin Ivey
Monday, September 18
In the newly acquired territory of Alaska in 1855, Lieutenant Colonel Allen Forrester sets out on a journey with his crew to explore the new land and research the region's native tribes. Meanwhile, feeling stifled by the small-minded community back home, his wife Sophie embarks on her own journey of self-discovery. This novel by Eowyn Ivey is a spellbinding tale of adventure that blends myth and historical fiction and takes readers into the heart of the untamed wilderness of the Alaskan frontier.
LaRose by Louise Erdrich
Monday, October 20
When Landreaux Iron accidentally kills his neighbor's young son Dusty, he gives up his own son, LaRose, to the grieving parents as retribution. The decision reverberates through the two sets of parents and siblings and the community beyond. The families grieve their mutual losses and eventually begin to heal, but there is more pain lurking as a vengeful man with a grudge against Landreaux stirs up trouble. This novel in Louise Erdrich's North Dakota cycle illuminates the proud legacy and entangled relationships among Native Americans, whites, and people of mixed heritage, and is a story of empathy, spirituality, resilience, wit, wonder, and hope.
The Wonder by Emma Donoghue
Monday, November 20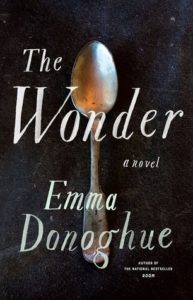 In 1859, nurse Lib Wright accepts an unusual assignment: to watch over Anna O'Donnell, an 11-year-old girl in a small Irish village who, so it's claimed, hasn't ingested any nourishment in four months. Having trained under Florence Nightingale, the English widow is ideally equipped to verify whether Anna's fast is a hoax. She initially suspects the child's piety is a scam for attention, but Anna's gentle nature (and alarming decline) soften the nurse's heart. Inspired by true cases of nearly 50 "Fasting Girls" who lived between the 16th and 20th centuries, Emma Donoghue's quietly suspenseful novel depicts the customs, myths and devotional practices of 19th-century rural Irish Catholics.
Looking Ahead to Winter:
Beartown by Fredrik Backman