The BookTalkers discussion group meets at 6:00 pm in the Armstrong Conference Room
on the second floor of the library.
Even in Darkness by Barbara Stark-Nemon
Monday, May 15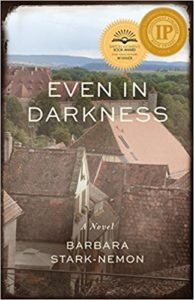 Based on a true story spanning a century and three continents, Michigan writer Barbara Stark-Nemon's novel traces the life of Klare Kohler, who meets the Nazi's destruction of her comfortable world with passionate resilience. This saga of family, two world wars and a concentration camp leads to the unconventional life Klare builds in post-war Germany—one that ultimately allows her to find wisdom, meaning, and, most unexpectedly, love.
Come hear the author speak at on May 16 at 6:30 pm.
Did You Ever Have a Family by Bill Clegg
Monday, June 19
Hours before a wedding, a fire kills the bride, the groom, her father, and her mother's boyfriend. The only survivor is the bride's mother, June. After losing not just everyone she loves, but her house, her clothes, and her passport as well, June leaves her Connecticut hometown and drives to a motel in the Pacific Northwest, where she stays for months. In this sad yet deeply inspiring debut novel, agent/memoirist Bill Clegg shows how people make bearable what is unbearable, offering consolation in small but meaningful gestures.
Hillbilly Elegy by J.D. Vance
Monday, July 17
This powerful account of growing up in a poor Rust Belt town offers a broad, probing look at the struggles of America's white working class. In this compelling hybrid of memoir and sociological analysis, former marine and Yale Law School graduate J. D. Vance digs deep into his upbringing in the hills of Jackson, Kentucky, and the suburban enclave of Middletown, Ohio, to chronicle with affection–and raw candor–the foibles, shortcomings, and virtues of his family and their attempts to live their lives as working-class people in a middle-class world.
News of the World by Paulette Jiles
Monday, August 21
The Civil War is over, and Captain and widower Jefferson Kyle Kidd makes ends meet by giving live readings of various newspapers. A $50 gold piece convinces Captain Kidd to transport a young woman, who was raised among Kiowa raiders after her parents' death, to the home of relatives in San Antonio. As the journey continues, the pair become closer, and when they finally arrive in San Antonio, Capt. Kidd must make the hardest decision of his life. Poet and novelist Paulette Jiles' latest book is a brilliant work of historical fiction that explores the boundaries of family, responsibility, honor and trust.
Looking Ahead to Summer:
To the Bright Edge of the World by Eowin Ivey