Donate to the Charlevoix Public Library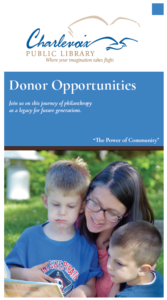 The Charlevoix Public Library supports the entire community by providing resources, which will aid the pursuit of information and provide recreation & cultural enrichment through print, media and electronic resources and planned programs.
The Charlevoix Public Library adheres to the State of Michigan, Gifts and Donations – Act 136 of 1921. Click here to read the gift policy. The Charlevoix Public Library encourages the interest and involvement of citizens and organizations through contributions of book or non-book materials, real or personal property, gifts that will enhance the physical environment of the library, and bequests, trusts, or other donations of monetary value.
This library is a formally established district library and is considered a political subdivision of the State of Michigan. State political subdivisions may receive charitable contributions, which are tax deductible to donors under Section 170(c)(1) of the Internal Revenue Code.
Your gift to the library is greatly appreciated and will enhance the services we provide to the Charlevoix Community. A formal thank you letter will be sent. To mail a check, use this Donation Form or use our Donate button (seen at top of this page) to place the donation on your credit card.
If your donation is to honor or memorialize someone, please send an explanation via the "special instructions" on the first page after clicking the DONATE button above. Or email to reference@charlevoixlibrary.org. Please tell us when the donation was made, who it is for and where we should send the acknowledgement.
Necessary information for tax deductions will be available in your mailed acknowledgement.
Book Donation Procedures:
To donate a book or magazine in honor or memory of a loved one, please print this form, fill it out and return to the library with your check.
Thank you.