The Friends of the Charlevoix Public Library
"It is thanks to the passion, dedication, and tireless work and support of the Friends of the Library that we are able to serve this community in all of the many ways you have come to expect as well as to go above and beyond." -Ryan Deery, Director of the Charlevoix Public Library
The Friends of the Charlevoix Public Library annually extends an invitation for all Charlevoix residents to join this non-profit organization. For a nominal fee of $5.00 (individual or family) membership is a way for residents of the area to gain ownership in, become more involved with and actively support their library.
This may be the biggest bargain in town, for while membership money is minimal it packs a big punch. Along with additional donations the proceeds from the on-going and summer Book Sale, monies collected are used to fund projects, concerts, events, programs, exhibitions, and buy books for the children's section of the library. Membership also affords the opportunity for community members to volunteer.
Membership Form:
View membership form here. Mail completed form with your check to; Friends of the Library Membership, c/o Charlevoix Public Library, 220 W. Clinton St., Charlevoix, MI 49720)
Michigan Room Committee: This group is the original driving force behind the effort to renovate and create our present library. They continue to contribute by spending countless volunteer hours, and were honored for their contributions at the 16th annual Margaret Duerr Award on Thursday, October 3, 2019.

The Michigan Room Committee is a subsidiary of the Friends group and has been responsible for appraising the rare books collection, preserving historical Charlevoix newspapers, providing obituary records for the Libraries' webpage, promoting historical exhibitions, and creating the Margaret Duerr Award to honor outstanding citizens or organizations who have made significant contributions to our town.

Photo L-R Kay Heise, Mary Ann Chew, Marilyn Novak and Cynthia Postmus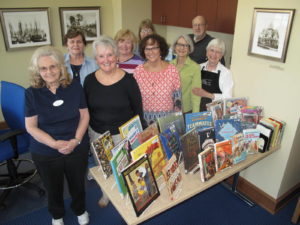 Friends volunteers meet every Wednesday to sort,
organize, and shelve used books available for purchase
by the public.
Projects:

2019 Charlevoix Memorial Day Parade

Projects ranging from landscaping and digitizing Charlevoix High School yearbooks to honoring veterans in the Memorial Day Parade, the Friends stand ready to supplement the Library's budget and consider proposals for funding. Each year the on-going and the annual summer Book Sale nets over $20,000. Along with membership dues and other donations, this viable organization is able to maintain and manage a healthy budget. From 2004-2018, the Friends of the Charlevoix Public Library contributed $179,793 to the library for special projects.
Lifelong Learning:
The Friends of the Charlevoix Public Library with the generous support of funding from Lynne and Mason Rosenthal, announce an exciting new concept in continuing education. Modeled after several successful adult learning programs offered at libraries across the nation, Charlevoix's fall sessions will be offered over a period of three months: September, October, and November. The winter sessions will run in January, February, and March. The plan is to offer classes dealing with both local and global issues, targeted at adults who are interested in investigating and in discussing current topics in a small group setting with a knowledgeable facilitator.
LIFELONG LEARNING PROGRAM
FALL 2021
The Lifelong Learning Program was initiated by the Friends of the Library in 2016, with support from Lynne and Mason Rosenthal, as a means of providing an opportunity to develop a greater understanding of topics and issues that impact all of us.
For the Fall 2021 session, we are excited to present new topics covering everything from global to local issues and a bit of World War II history as well as a continuation of the 2021 Great Decision Series. Great Decisions briefing books, published by the Foreign Policy Association, are the primary resource. The topics take us beyond the headlines of today's issues with a lively discussion group that explores significant global concerns. These impartial materials provide thought-provoking analysis in a written guide complemented by updates and PBS video segments. Great Decisions briefing books will be given to those registering with the expectation that the material will be read before each class.
Class #1: Great Decisions, Persian Gulf Security Issues
William Wadland, MD, Facilitator
Wednesday, September 15 – 1:00 PM in Community Rooms A&B
Class #2: Navigating the Complexities of Global Culture
Don Miles, Founder and CEO of DFM International Agricultural Consulting
Wednesday, September 22 – 1:00 PM in Community Rooms A&B
How does a young agronomist from Michigan successfully navigate potential cultural pitfalls when working in an international business environment? In this session Don Miles will share some of the lessons learned during more than 30 years of working globally. Together we'll explore how his experiences and yours can help us live and work effectively in a world that becomes more integrated every day.
Class# 3: Great Decisions, The Two Koreas
William Wadland, MD, Facilitator
Wednesday, September 29 – 1:00 PM in Community Room A+B
Class# 4: The Great Lakes and World War II
Mike LeButt, United States Power Squadron
Wednesday, October 6 – 1:00 PM in Community Rooms A&B
Did you know that Michigan had one of the most heavily fortified cities in the U.S. during WWII? Or that Aircraft Carries operated on Lake Michigan? Or that German Prisons of war were housed in POW camps throughout Michigan and Wisconsin? Learn more about these facts and more of our involvement in WWII.
Class #5: Great Decisions, The Role of World Health Organization
William Wadland, MD, Facilitator
Wednesday October 13 – 1:00 PM in Community Room A
Class #6: Great Decisions, The End of Globalization
William Wadland, MD, Facilitator
Wednesday October 20 – 1:00 PM in Community Rooms A&B
Canceled : Class# 7: Food Safety Around the World
Christopher Snabes, BS, MS, CFS (Certified Food Specialist)
Wednesday, October 27 – 1:00 PM in Community Rooms A&B
Class #8: Story of Exploration and Discovery
Steve Libert, President of Great Lakes Exploration Group
Wednesday, November 3 – 1:00 PM in Community Rooms A&B
Surrounded in mystery and misinformation for 342 years, Steve Libert reveals the location of the elusive Huron Islands where Le Griffon met her fate. It is here that an exciting discovery of what appears to be a colonial-aged shipwreck was discovered. Utilizing primary source documents, Steve takes you on a historical journey of exploration and discovery in solving the first Great Lakes maritime mystery, Le Griffon and her final resting place.
Class# 9: Trash Talk
Terry Amick, Charlevoix County Maintenance Manager
Wednesday, November 10 – 1:00 PM in Community Room A
Northwest Michigan has a state-of-the-art recycling facility in Traverse City, which is one of the best in the country. Learn about the process of sorting and recycling and what we can do to make it work efficiently. Bring all your questions about recycling materials to this informative session.
---
All classes begin at 1:00 pm and will run approximately 90 minutes. For the Great Decisions Classes, the library will provide a Great Decisions briefing book published by the Foreign Policy Association as its resource along with updates using PBS video segments. Briefing books are available upon registration. (Registration is required to receive the Great Decisions briefing book.)
All of these classes are free due to the generous support of Lynne and Mason Rosenthal and The Friends of the Charlevoix Public Library.
Fall 2021 Lifelong Learning classes will abide with health care restrictions imposed. In the event a class is cancelled due to these restrictions, it will be available on Zoom, if the speaker agrees.
Registration is strongly encouraged for all classes and cancellation of registration is requested for those who are unable to attend. Please contact the library for registration, cancellation and the latest information on the format of the classes.
One may register on line or by calling the Charlevoix Public Library at: 231-237-7340.
Friends of the Library Annual Book Sale – A Great Success!

Books, books and more books! Great bargains on thousands of books: mass market, children's, even rare and collectible books and gently used CDs and DVDs…all on sale at the Friends of the Charlevoix Public Library's annual book sale.

The sale took place on the front sidewalk of the Library, continued in the Community Room and in the 2nd floor on-going sale room in order to accommodate the large selection. The Friend's most significant fund raiser of the year, the annual book sale proceeds are used to fund new books, materials and programs for the Library's children's department. Annual sales net over $6000 – this year surpassed all others, raising nearly $9,000!

See the Community Room during the June 2021 annual sale below:
Friends Digitize Historical Charlevoix Obituaries
The obituaries from the Charlevoix Journal 1883 to 1890, the Charlevoix Sentinel 1920 to 1936, and the Charlevoix Courier, 1908 to the present day, have all been entered, and are all searchable on the library website!
Soon after the Friends of the Library organized in 1999, a small group of four volunteers, the Michigan Room Committee, began The Obituary Project. The librarians had reported that there was a need for obituary information to be accessible, due to a large demand by genealogy researchers. So the Committee spent two years sorting and saving stacks of unorganized old issues of the local papers found in the basement of the old library. A scanner was purchased by the Friends, permission to use the newspapers was obtained from the publisher, and the first obituary was placed onto the librarys website in 2003.
At an old computer in the basement storage room of the old library, where warmth was supplied by a portable heater, a searchable data base was developed, information was entered, and images of original obituaries were scanned. Â (The current Beyers Friends Room facilities have been a huge upgrade for this work!)
An integral part of the project was for the staff to move forward by adding new obituaries as they appeared in the current papers. Marti Chester, Erika Powell, Linda Adams, and Davonne Rogers have been contributors to this effort, and Roger Gowell has provided technical assistance. Many thanks to them.
Tremendous thanks to the Friends volunteers who have participated in large and small ways to the past fourteen years of data entry! They are:
Eugene Ackert, Suzanne Ackert, Elizabeth Allan, Sarah Benitez, Alberta Beyers, Larry Burgess, Mary Ann Chew, Judy Colt, Jerry Corley, Judy Corley, Toni Felter, Kathy Gowell, Don Heise, Kay Heise, Marilyn King, Marilyn Novak, Nancy Porter, Cynthia Postmus and Mary Snider.
Approximately 16,000 obituaries from over 6,000 newspapers have been entered. Click Here to see what is available.
Margaret Duerr Award:
Annually, the Friends of the Library group selects an individual or group who has made a significant contribution to the Charlevoix area to receive the Margaret Duerr Award.

The 17th annual Margaret Duerr Award will be presented on Wednesday, October 13, 2021 at 6:30 p.m. in the library's community room. Each year the Friends of the Charlevoix Public Library honor an outstanding citizen or organization that has made a significant contribution to our town. Honored this year are Gayle & Lyle Gennett, long time supporters of the Charlevoix Public Library. Since the Library moved to its present location, both have contributed immeasurably and are deserving of our recognition and gratitude.

The Margaret Duerr Award was established in 2003 in recognition of Margaret's longtime service to the Library and in particular to the Michigan Room. During her tenure as the Interim Director she organized the move to 109 Clinton Street in 1967.

This year's speaker, John Campbell, CEO and president of Site Planning, will talk about the children's garden, and the rain garden.

A reception will follow, sponsored by the Friends of the Library.
Previous recipients dating from 2003 include:
Friends of the Library — 2021 Executive Board
The board meets the first Tuesday of every other month at 10 a.m.

President: Jean Smith

Vice President: Linda Linklater

Secretary: Tom Richards

Treasurer: Steve Hall

Members at Large: Deb Mann, Sandy Miles, Mary Millington, Diana Hilligan, Birute Fleck, Linda Moore

Membership: Betty Wadland

Book Sale: Mary Ann Chew

Lifelong Learning: Linda Linklater, Linda Moore, Birute Fleck

Michigan Room Representative: Marilyn Novak

Publicity: Kris Balasz

Board of Trustees Representative: Tom Conlan

Library Director: Ryan Deery

Updated June 2021