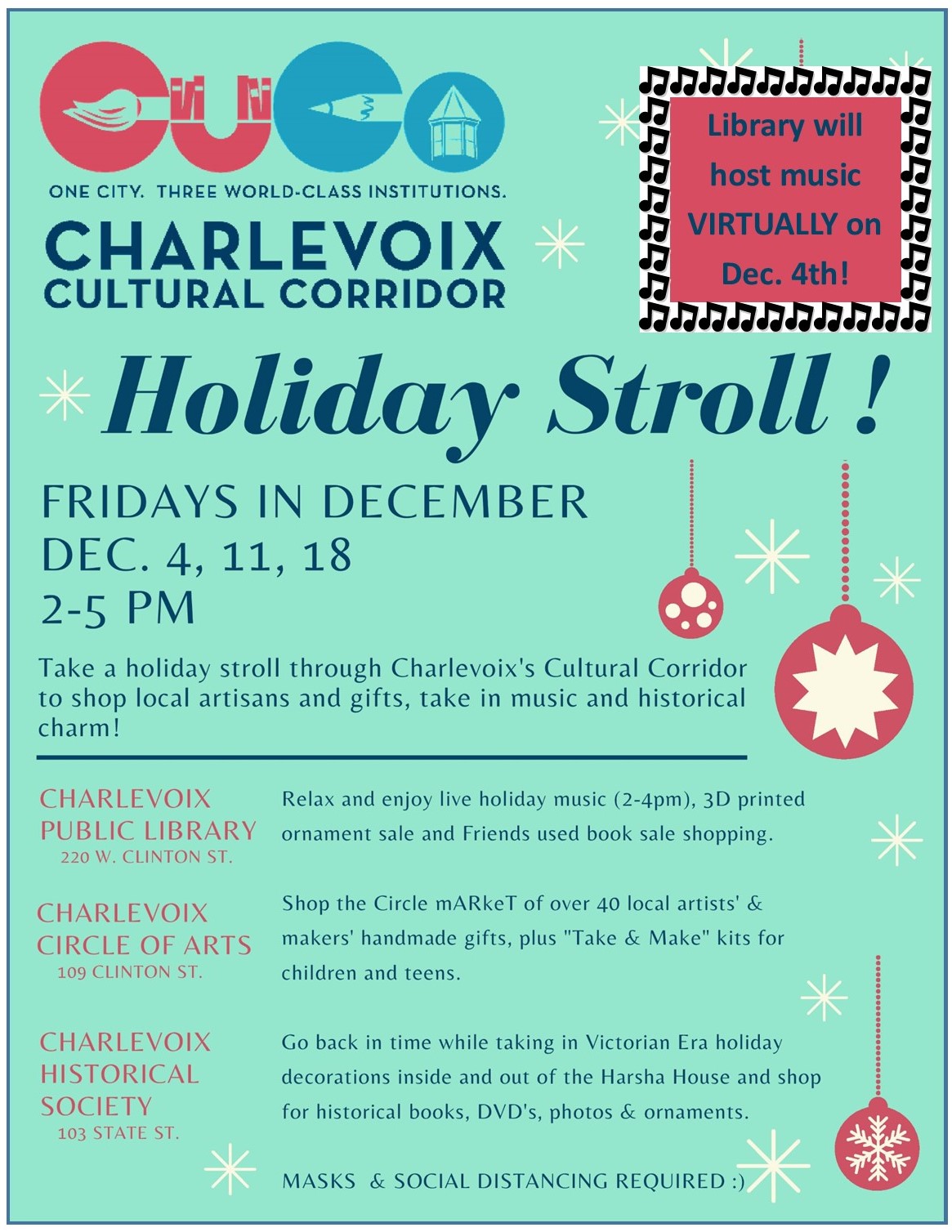 Take a holiday stroll through Charlevoix's Cultural Corridor to shop local artisans and gifts, take in music and historical charm!
Charlevoix Public Library: Relax and enjoy live holiday music (2-4pm), 3D printed ornament sale and Friends used book sale shopping. DEC. 4th Music will be virtual on the library website/Facebook since the library is operating with contactless service due to health safety restrictions.
Charlevoix Circle of Arts: Shop the Circle mARkeT of over 40 local artists' & makers' handmade gifts, plus "Take & Make" kits for children and teens.
Charlevoix Historical Society: Go back in time while taking in Victorian Era holiday decorations inside and out of the Harsha House and shop for historical books, DVD's, photos & ornaments.
Masks and social distancing required 🙂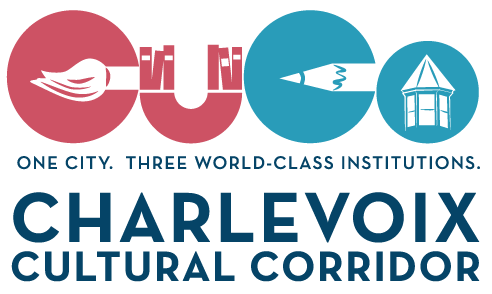 Charlevoix Cultural Corridor to host Holiday Stroll
during December at each location
The Charlevoix Cultural Corridor wants to create some joy for the community during this holiday season, even if it is under difficult and constantly changing circumstances. Each location will be participating in different ways during a festive stroll from 2-5 pm on Friday December 4, 11 and 18 – safely distanced for the well-being of guests and staff.
The Charlevoix Circle of Arts, located at 109 Clinton Street, is having its annual holiday mARkeT, which features local hand-made items, original art and locally produced treats. Over 40 local crafters, makers, artists, jewelers and more will have their works for sale. During the stroll, they will also feature 'take and make' kits for children and teens.
The Charlevoix Public Library, 220 W. Clinton Street, will be featuring holiday music from 2-4 pm. On December 4th it will be virtual, as the Library will be under restricted operations. If they are able, the Library will be open for visitors to hear live music and purchase 3D ornaments and used books for sale during the stroll on December 11 and 18. Check their website or Facebook page for details and updates.
The Charlevoix Historical Society's Museum at Harsha House, at 103 State Street, will be transformed into a Victorian Christmas this year with new period-themed decorations throughout the front parlors of the house. Unique merchandise for those interested in the history of Charlevoix will be featured in the gift shop, with specials and holiday wrap. The Society's newest publication, Boulders: The life and Creations of Earl. A. Young in Charlevoix, Michigan, will be available, as well as historic maps & photos, and Charlevoix South Pier Lighthouse apparel. Items can also be purchased online at chxhistory.com/shop.
All COVID-19 precautions and prevailing MIHHS orders will be followed at all locations. For more information and any updates, please contact the Charlevoix Historical Society at 231-547-0373 or info@chxhistory.com, the Charlevoix Circle of Arts at 231-547-3554 or info@charlevoixcircle.org, or the Charlevoix Public Library at 231-547-2651or charlevoixlibrary.org.
#######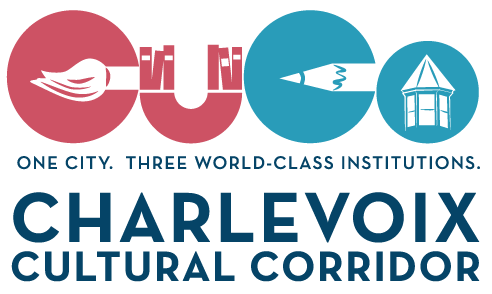 Charlevoix Cultural Organizations Create New Corridor
June 19, 2017– Charlevoix, Michigan – Three organizations in downtown Charlevoix have created a new area designated as the Charlevoix Cultural Corridor. The Charlevoix Public Library, Charlevoix Circle of Arts and Charlevoix Historical Society Museum have long been centers of cultural programming in the city, each offering distinct, yet complementary exhibits, events and programs to the general public as well as their members. With the creation of The Cultural Corridor, the three organizations are connecting their visions with a common goal of becoming a central destination for cultural activity in Charlevoix. Throughout the year, the organizations will collaborate on combined events or themes in hopes of providing visitors and locals with bountiful cultural experiences.
The Cultural Corridor extends along Clinton Street, where the library and arts center are located, and also includes State Street, where the historical society is situated.
For more information about the Cultural Corridor, contact:
Charlevoix Public Library at 231-547-2651 • Charlevoix Historical Society at 231-547-0373 • Charlevoix Circle of Arts at 231-547-3554
https://www.charlevoixlibrary.org/ • https://chxhistory.com/ • https://www.charlevoixcircle.org/