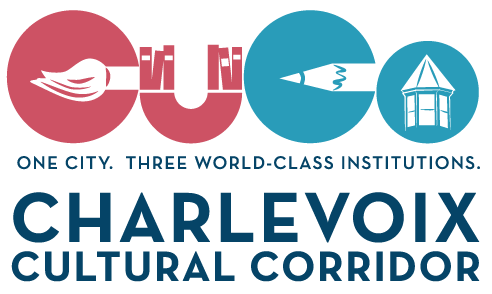 Charlevoix Cultural Organizations Create Corridor
June 19, 2017– Charlevoix, Michigan – Three organizations in downtown Charlevoix have created a new area designated as the Charlevoix Cultural Corridor. The Charlevoix Public Library, Charlevoix Circle of Arts and Charlevoix Historical Society Museum have long been centers of cultural programming in the city, each offering distinct, yet complementary exhibits, events and programs to the general public as well as their members. With the creation of The Cultural Corridor, the three organizations are connecting their visions with a common goal of becoming a central destination for cultural activity in Charlevoix. Throughout the year, the organizations will collaborate on combined events or themes in hopes of providing visitors and locals with bountiful cultural experiences.
The Cultural Corridor extends along Clinton Street, where the library and arts center are located, and also includes State Street, where the historical society is situated.
For more information about the Cultural Corridor, contact:
Charlevoix Public Library at 231-547-2651 • Charlevoix Historical Society at 231-547-0373 • Charlevoix Circle of Arts at 231-547-3554
https://www.charlevoixlibrary.org/ • https://chxhistory.com/ • https://www.charlevoixcircle.org/