Back To Search
Employment Opportunity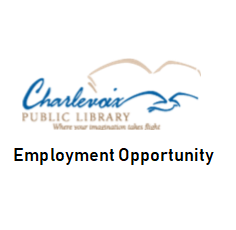 Thursday, April 2, 2020 - June 30, 2020
9:00 am - 5:00 pm

(Expired)
Contact & More Info

Join our award winning team!
The Charlevoix Public Library is searching for a part time Library Circulation Department Assistant & Community Room Staff Assistant.
The right candidate must be strongly customer service focused, technologically literate, and have good communication skills. Must have minimum three years' experience in public service with previous library service a plus. Includes early morning, evening, weekend hours, and on call duties. See https://www.charlevoixlibrary.org/about-cpl/employment/ for full job description. Email resume and brief cover letter to rebecca@charlevoixlibrary.org. Position open until filled.