Back To Search
LifeLong Learning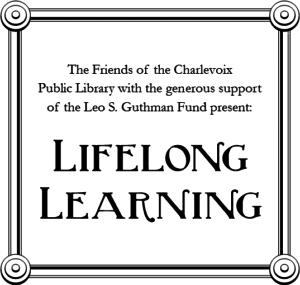 Occurring January 27, 2021 - March 17, 2021
1:00 pm - 3:00 pm
Contact & More Info

All classes will begin at 1:00 p.m. via Zoom
Please register using the links below:
Class 1: Great Decisions, William Wadland, M.D., Facilitator
This session is canceled while we await the books - Wednesday, January 13: Persian Gulf Security Issues
Wednesday, January 27: Brexit and the European Union
Wednesday, February 10: Struggles Over the Melting Arctic
Wednesday, February 24: China's Role in Africa
Wednesday, March 3: Global Supply Chain
https://us02web.zoom.us/meeting/register/tZUrc--rrD4uH9JfkysTkpZcf-zVt9OvdKBO
POSTPONED - Class 2:  Trash Talk, Terry Amick,  Charlevoix Cty. Maintenance Mgr.
Wednesday, January 20
Northwest Michigan has a state-of-the-art recycling facility in Traverse City which is one of the best in the country. Learn about the process of sorting and recycling and what we can do to make it work efficiently. Bring all your questions about recycling materials to this informative session.
Class 3: Seasonal Affective Disorder (SAD), Steve Hansen, M.D.
Wednesday February 3
SAD is a psychiatric disorder, not even recognized or named until the 1980's. It has a novel treatment. We will learn about its discovery, identification of its cause, its distribution and its treatment. Dr. Hansen estimates that about 20% of "Charlevoixians" may be involved.
Class 4: Are You Talking to Me?, Christina Abramowski
Wednesday, February 17
A basic, brief seminar on hearing loss and better communication for all involved. This information is directed to those who live with and deal with family and friends who have hearing losses and how to communicate more effectively. Participants will learn actions that will increase the quality of good informational exchange.
Class 5: This session has been canceled - we apologize for the inconvenience - Food Safety Around the World: Ensuring Food and Beverage Companies Don't Make You Sick or Kill You!
Christopher Snabes, BS, MS, CFS (Certified Food Specialist)
Wednesday, March 10
---
Class 6: Statistics: A Tool for Understanding Numbers,  Jim Rudolph, PhD
Wednesday, March 17
https://us02web.zoom.us/meeting/register/tZMvf-ugqTstE9cDz3vFdjeQ58Uk5xLB-OHW
Have fun with numbers and learn how to be a more informed consumer of statistics. Statistics, like any tool can be very useful, but unfortunately can also be misused and misleading. Statistics is
a tool to make effective interpretations of data and involves the proper
collection, analysis and interpretation of the data. Let's learn together and improve our ability to understand and interpret statistical information.