Back To Search
World of Spice!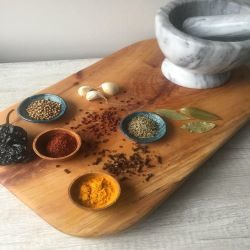 Occurring February 23, 2021 - April 27, 2021
6:30 pm - 8:00 pm
Cost: FREE
Contact & More Info

This will be a three part demonstration series that will include:
February 23:
Indian Cuisine: Pat will make an almond coriander chicken dish that starts with the foundation of ghee and tempering spices to create depth of flavor. To go along side is basmati rice infused with cardamom and cumin. She will top if off with a cup of chai.
March 30:
Persian cuisine: For this demonstration, Pat will make a traditional Iranian dish called fesenjan, a chicken dish with pomegranate and walnuts and sabzi paneer which showcases how fresh herbs are used in Persian cuisine. A cup of tea would be the perfect sip along.
April 27:
It's Greek to Me: Pat will show you how to make a traditional Greek salad (it is not what passes as a Greek salad in this country), souvlaki (chicken kabobs), tzatziki and pita bread. Fresh herbs, dried oregano, garlic and lemon are the flavor bombs in this class.