Our 3D Printers
The library has two different 3D printers available for public use: an Ultimaker 2 and a MakerBot Replicator 2x.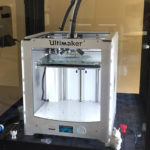 Ultimaker 2
Maximum print size: 8.7 W x 8.7 L x 8 H inches (22.3 x 22.3 x 20.5 cm)
One print nozzle
Prints PLA Plastic
Colors: silver, red, white, blue, and black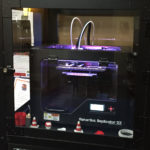 MakerBot Replicator 2x
Maximum print size: 9.7 W x 6.4 L x 6.1 H inches (24.6 x 16.3 x 15.15 cm)
Dual nozzles can print in two different colors
Prints ABS plastic
Colors: red, white, yellow, blue, and black
Dissolvable filament is also available to use for supports
How to Print
Price
10¢ per gram, with a minimum charge of $1.00. If needed, we can contact you with a price when the print file is submitted.
Limitations
The library reserves the right to refuse any print or to stop a print in progress.
Submitting a Print
Small to medium files (up to 10 MB) can be sent to the printer email: cpl3dprinter@gmail.com. Larger files can be dropped off at the library on a flash drive or SD card to be printed.
When sending or dropping off a file, please include:
Name, phone number, and email
Color preferred
Preferred printer if applicable. If no preferred print it will be printed on the first available.
Preferred size
We will call or email you when your item is ready to be picked up. Printed items can be picked up and paid for at the circulation desk.
File Types
Please send all 3D print files in an .stl file format.
What can you make?
Ideas include: coasters, door hangers, stands, hinges, containers, replacement parts, figurines, models, etc.
Browse the websites below for ideas and files.
For more information:
Thingiverse – Large depository of 3D print files
TinkerCad – Free web based design program
SketchUp (Email Required)
www.sketchup.com/products/sketchup-free
3DC (Android, IOS)
Maker's Empire (Android, IOS)(K-8)
https://www.makersempire.com/download/
OpenSCAD (Download)
Sculptris (Download)
http://pixologic.com/sculptris/
Vectr (online)
Inkscape (Download)
Video tutorials for designing prints are available free at Lynda.com with your library card.
While we will do our best with your printing requests, some additional clean-up may be required (example: sanding).
Contact Information
If you have any questions regarding the 3D printer please contact:
Carrie Musser, Library Assistant
231-547-2651
Carrie@charlevoixlibrary.org
The 3-D printers were made available by a grant from the Leo S. Guthman Fund.