What is a 3D printer?
A 3D printer is a machine that turns a digital model into a real object by repeatedly layering small amounts of material.
The Charlevoix Public Library has one printer available: Flashforge Creator 3 Pro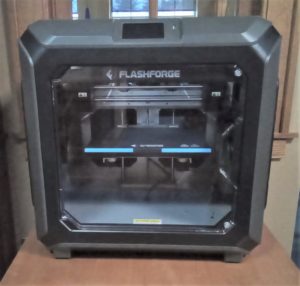 Flashforge Creator 3 Pro
Max print size: 11.8"W x 9.8"L x 7.8"H (30 x 25 x 20 cm)
2 print nozzles
Available Colors: White, Blue, Red, Black
Filament Type: PLA Plastic
2 color printing is available with restrictions
How do I submit a print request?
Accepted file type extensions are .stl and .obj
Files or website link can be sent to: cpl3dprinter@gmail.com or dropped off at the Circulation Desk via flash drive or SD card.
Anyone can send in a print request. It will take a few days for your request to be processed and printed.
Please include the following with your request:
* Name, phone number, and email
* Preferred Color(s)
* Preferred Size
How much is it to print?
$.10 per gram with a minimum charge of $1.00. An estimate price will be given before printing.
What is PLA plastic filament?
PLA, short for Polylactic Acid, is a biodegradable (under the correct conditions) thermoplastic derived from renewable resources such as corn starch or sugarcane.
What can you make?
Ideas include: coasters, door hangers, stands, containers, replacement parts, figurines, dog tags, luggage tags, picture frames, etc.
Where are the files?
Pre-made files can be found at these websites:
https://nasa3d.arc.nasa.gov/models/printable
https://www.myminifactory.com/pages/explore
Can I make my own?
The programs used are CAD based programs. There are several free programs available that can be used online or downloaded to be used on a computer or mobile device.
Tinkercad (Email Required)
www.tinkercad.com
SketchUp (Email Required)
www.sketchup.com/products/sketchup-free
3DC (Android, IOS)
https://3dc.io/
Blender (Computer Download)
https:/www.blender.org
OpenSCAD (Computer Download)
http://www.openscad.org/
ZBrushCoreMini (Computer Download, Email Required)
https://zbrushcore.com/mini/index.php
Maker's Empire (Android, IOS) (K-8)
Retrieving your print request
We will call or e-mail you when your item is ready to be picked up.
Finished items can be picked up and paid for at the Circulation Desk.
Limitations
The library reserves the right to refuse any print or to stop a print in progress.
Any item not picked up within 14 days of being contacted will become the property of the Library.
While we will do our best with printing your request, some additional clean up may be required by you. For example: Sanding
Contact Information
If you have any questions regarding the 3D printer please contact:
Carrie Musser, Library Assistant
231-547-2651
cpl3dprinter@gmail.com
The 3-D printer was made available by a grant from the Friends of the Charlevoix Public Library.